发布日期:2020-09-08 17:14:53 来源 : unknown 作者 :unknown 浏览量 :15
Botryosphaeria guttulata Y.Y. Chen, A.J. Dissanayake & Jian K. Liu 2020
Index Fungorum number IF557253
Holotype: CHINA, Guizhou Province, Xingyi District, Wanfenglin, Saprobic on decaying branch, June 2019, Y.Y. Chen (HKAS 107541, holotype; GZAAS 19-1921, isotype), ex-type living culture CGMCC 3.20094 = GZCC 19-0202.
Morphological description
Saprobic on dead wood. Sexual morph: unknown. Asexual morph: Conidiomata up to 402 μm in diam and 213 μm in height, sometimes with a neck up to 435 μm long, arising from the substrate embedded in the host, becoming partially erumpent at maturity, solitary or aggregate, globose, unilocular with a central ostiole, brown to black. Peridium 5 to 18 μm in width (mean = 12 μm, n=10), consisting of 2 regions of hyaline and brown cells lining the locule. Conidiophores 16–21 × 4–5 μm, cylindrical, hyaline, smooth, thin-walled, septate, lining the entire inner surface of the conidiomata. Conidiogenous cells 6–8 × 3–4 discrete, hyaline, cylindrical to lageniform, phialidic with periclinal thickening, holoblastic producing a single conidium at the tip. Conidia (17.1–)18.5–19.3(–20.3) × (4.1–)4.4–4.9(–5.2) μm (mean = 18.9 × 4.7 μm, n= 30), guttulate, irregularly fusiform, hyaline, aseptate, smooth-walled, with granular contents. Culture characteristics: Colonies on PDA growing rapidly, reaching 30–40 mm diam after 7 d at 25 ℃, aerial mycelium at first white becoming dark grey to black.
Habitat: on decaying branch.
Ecology: Karst formations.
Distribution: Guizhou Province, China.
GenBank Accession: ITS MT327839; EF-1α MT331606
Notes: The asexual morph of B. agaves has not been reported, and Botryosphaeria guttulata can be morphologically distinguished from B. minutispermatia by having larger conidia (mean = 18.9 × 4.7; L/W = 4.0 vs. 13.0 × 3.5, L/W = 3.7) (Ariyawansa et al. 2016). In addition, Botryosphaeria guttulata differs from other Botryosphaeria species by its prominent guttules in conidia.
Reference: Chen YY, Dissanayake AJ, Liu ZY et al. (2020) Additions to Karst Fungi 4: Botryosphaeria spp. associated with woody hosts in Guizhou province, China including B. guttulata sp. nov. Phytotaxa 454 (3): 186–202.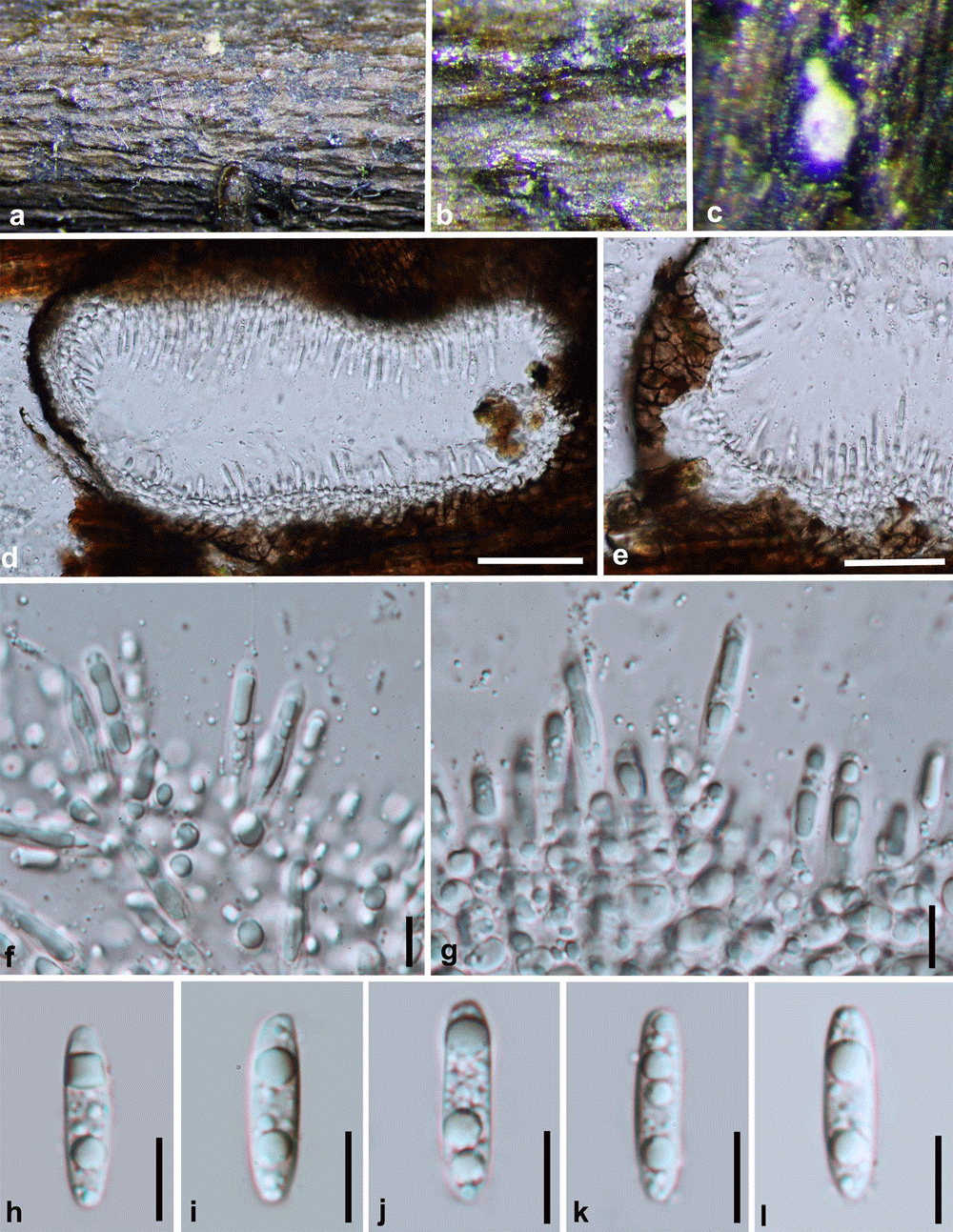 Botryosphaeria guttulata Morphological characteristics of B. guttulata (HKAS 107541, holotype). a–c. Colonies on host surface. d. Cross section of conidiomata. e. Peridium. f, g. conidiogenous cells and developing conidia. h–l. hyaline aseptate conidia. Scale bars: d,e = 100 μm; f,g = 20 μm; h–l = 10 μm.